The technological platform for retail that brings digital transformation closer to you.
Tatic Vero is a light cloud solution totally designed for retail businesses that wish to have a closer relationship with their clients, to offer better experiences and to enhance their operational and financial results. Vero gathers different resources in just one platform: the powerful tools that make a difference for the big retail networks, in your reach.
VERO IS FOR
YOU

WHO SEEK TO
Create new relationship opportunities
Provide value experiences for each client
To offer planned benefits in accordance with the behavior of your public
To guarantee your customer's loyalty
To safely store all data of in-shop transactions
To use the purchase data as information source
To have valuable business insights
To enhance management
To move ahead in the digital transformation journey
Vero becomes naturally integrated in your everyday life. Easy to implement, it's simple to use and versatile: its tools speed up processes, and add more intelligence to the use of information that retail business captures all the time, with decisive impacts on the its image as well as on its operation and strategy.
EVERY CLIENT'S PURCHASE CREATES NEW OPPORTUNITIES
PROFIT FROM THEM ALL
To know the purchase habits of your client and have information by your side is the first step to get the most out of the data generated in your business. For this to happen, you must have the resources that allow you to store, access, manage and, mainly, to get strategic insights from this data, by enhancing its operation and enabling the development of more and more experiences for every one of its clients.
In a sole cloud solution, Tatic Vero gathers all the tools so that each purchase by your clients may become a safe and reliable source of knowledge which will support personalized value offers, such as exclusive promotions based on your clients' behavior.
With the application of strategic intelligence, well-managed information and integration to digital channels, Vero improves operational performance and opens up more opportunities for the consumer to enjoy real value experiences.
ENCHANT THE CONSUMER IN THEIR EVERYDAY LIFE WITH TRUE BENEFITS
Vero's functionalities allow its retail businesses to offer several advantages to the client. And this means to be closer to them, to strengthen relationship constantly by generating benefits and results like loyalty, sales, recommendation and image.
Individualized promotions
Customer loyalty programs and cash back
Tax coupons always available by Whatsapp or application
Monthly expenditures report
Shopping lists
Duplicate of coupons and bill by Whatsapp
WhatsApp feedback channel or app
Notification of not found products by WhatsApp
REAL GAINS FOR YOUR BUSINESS
If, for the client, Vero makes a difference, for your retail business it is not different. Each functionality is thought in order to improve different aspects of your business in a constant and natural way:
Segmentation of your clients according to their shopping behavior
Optimization of the return from promotions
Real time sales management store by store
Sales analysis by category/ABC curve/store/average ticket/transactions per shopping
Knowledge of the stores' peak hours
Monetization of data with brands IC
LIGHT, EASY TO USE AND READY TO BOOST RETAIL RESULTS
NEVER HAS THE CLIENT'S EXPERIENCE BEEN SO IMPORTANT
To improve it, it is fundamental to increase competitivity and sales
Digital transformation impacts significantly shopping habits and the consumer's behavior. It eliminates geographic distances, changes processes, gives access to a world of alternatives.
That is why the client's experience with your business is so important. To offer value and personalized experiences which will meet and overcome expectations is more than a good practice: it is a strategic differential. To understand what your public consumes, what it expects and what it needs is to have in your hands essential information to sell well, to manage your business efficiently and to enchant your client.
Tatic Vero helps retail business to stay competitive in a world in which the consumer has an increasing power of choice. Its resources help to know each client better so that your retail business may act proactively, increase proximity with clients, and create real value at different moments. And all of this with an investment that fits into your reality.
Vero's strategy for
capture the client's experience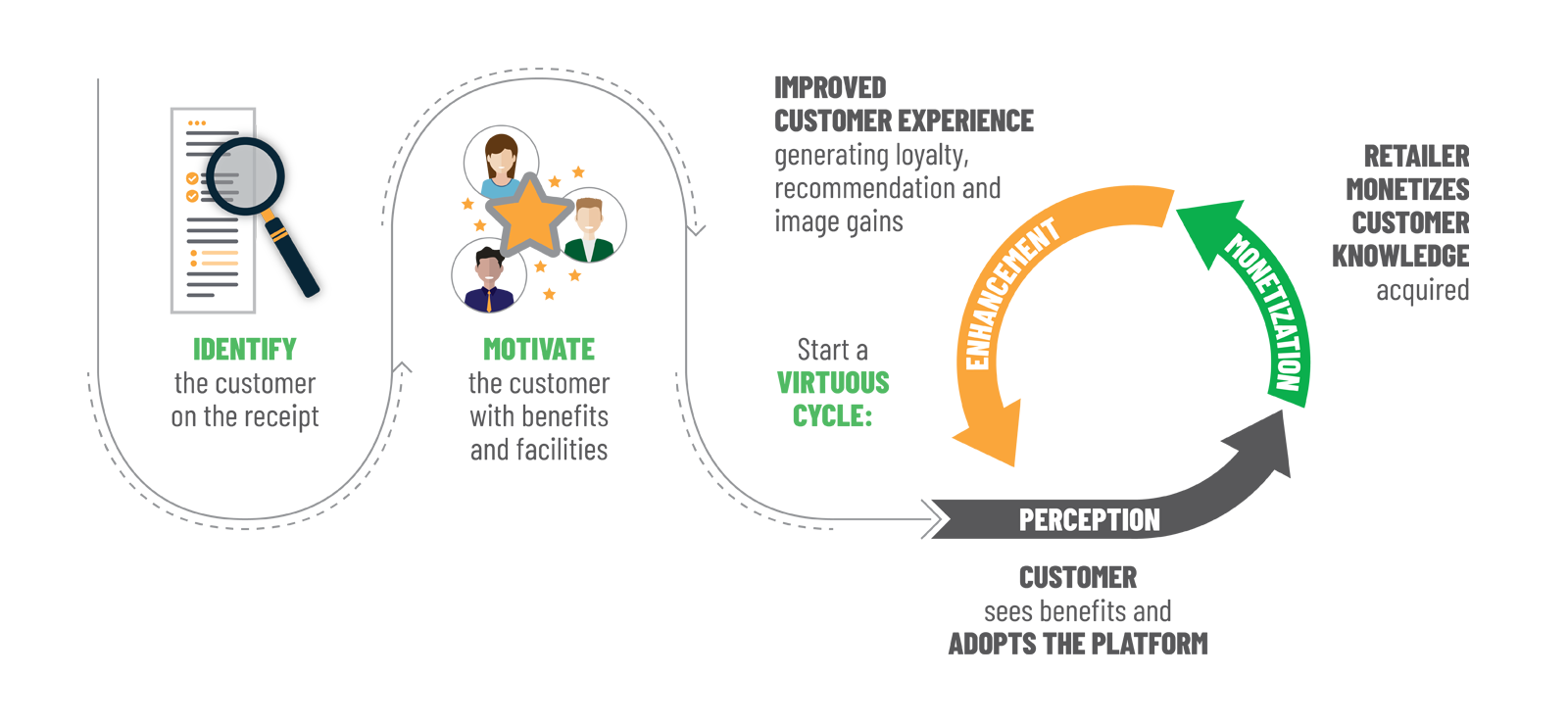 DATA EFFICIENCY AND ANALYTIC INTELLIGENCE
Vero combines Tatic's expertise in storage and analytics to turn your data into a strategic input of incomparable value. The powerful functionalities that create differentials for the large retail networks are now in your hands:
AND SOON , VERO WILL HAVE EVEN MORE RESOURCES:
There is a lot more coming up: Tatic Vero is going to gradually incorporate functionalities and resources which potentialize multi-channel features and data intelligence application:
INTEGRATED AND CLOUD SOLUTION
Vero is an integrated cloud platform. That means its implantation is much simpler and faster than when you use several tools, one for each function. With a unique solution, your business saves time and effort and does not run the risk of acquiring resources that will end up not being utilized!
A unique solution is much easier to implant and integrate with your routines
ONE SOLUTION, MULTIPLE

RESULTS
EFFICIENT MANAGEMENT
Rationalization of costs with storage and data management
Quick access to information
RELATIONSHIP WITH THE CLIENT
Quick and practical information supply (tax coupons, reports etc)
Potentialization of promotional and institutional communication
Personalized Campaigns and assertive, manageable customer loyalty programs
STRATEGY AND PERFORMANCE
Knowledge of what you apply to the decision-making process
Evaluation of scenarios and foundation for customized actions
More safety to deal with challenges
Resources that you really use. Investment that fits into your reality.
With Vero, your retail business controls information and applies it intelligently. For the business, better performance and safety. For the client, better experiences! Simplicity and technology that make your business progress in the context of digital transformation.
Vero has an impact in operational performance, in strategy, in the image of your business and in the relationship with its public. The main point: in just one solution!
Forget about the difficulties with the integration of different tools: Vero provides what you need and will really use at an affordable and suitable cost to your reality.
TATIC VERO
A MORE INTELLIGENT RETAIL BUSINESS:
MAKE DIGITAL TRANSFORMATION A REALITY!