The retail technology platform that puts data at the service of your bottom line, to sell more and better!
Tatic Vero is a lightweight, cloud-based solution designed for retailers who want to improve operational and financial performance. These are powerful tools that make the difference for large store chains, in an easy-to-use and easy-to-deploy platform that integrates seamlessly into your daily operations.
Strengthen your customer relationship, deliver better experiences, and leverage the full potential of the data generated all the time in your business to achieve greater management efficiency and sales performance: Digital transformation within your reach!
VERO IS FOR THOSE WHO ARE LOOKING FOR
Improve business indicators: sales, average billing, recurrence, satisfaction, and much more
Create new relationships and sales opportunities
Provide valuable experiences to each customer
Attract and retain your customers
Offer customized benefits based on your audience behavior
Work better with transactional data locally and store it securely
Gain valuable business insights and make better decisions
Advance on the road to digital transformation
Vero makes working with processes easier and adds more intelligence to information usage, having a decisive impact on your brand, operation, and strategy of your business. For customers, real benefits. For you, operational and management support and many more opportunities to achieve your goals.
REAL BENEFITS THAT DELIGHT CUSTOMERS
With Vero, your retail business can offer several advantages to the customer: on the platform, through the dedicated app, or via messaging apps. This will allow you to be closer to them, strengthen the relationship and generate results in loyalty, sales, referrals, and improvement on you brand image.
MORE SAVINGS:
Individualized promotions
Exclusive discounts
Offer Charts
Loyalty and cash back programs
EASIER TO USE OPTIONS:
Purchase history
Expense reports
Tax coupons on the platform
Notifications and feedback channel
COMPETITIVENESS AND BUSINESS RESULTS
Vero provides several benefits for the customer, and for your retail business there are even more benefits. Each functionality is designed to improve various aspects of your business:.
INCREASE YOUR SALES:
Accurate customer segmentation [buying behavior]
Targeted offer campaigns
Active channel to send digital newsletters and promotions
INCREASE CUSTOMER LOYALTY:
Loyalty and cash back programs
Feedback channel
GREATER EFFICIENCY:
Demand forecast
Real-time sales per store
Sales analysis [by category, ABC curve, by store, by average invoice, by transactions/purchase].
In three simple steps, you can see how Vero's resources revolutionize customer relationships and management!
A simple, intuitive, and very practical interface facilitates processes.
Customize the application for your business
Promote personalized offers
Create and manage campaigns
Make the most out of customer segmentation
Implement loyalty programs
CUSTOMER EXPERIENCE: MORE AND BETTER SALES!
With digital transformation, today's consumer has access to more choices. Therefore, the customer's experience with your company has never been more important. Delivering value experiences that exceed expectations is more than a best practice: it is a strategic differentiation strategy.
Understanding what your audience consumes, what they expect, and what they need is essential information for anticipating needs, managing the business effectively and delighting the customer.
Tatic Vero helps retailers remain competitive in a world of increasing consumer choice. Get to know each customer better, act proactively, increase proximity, and create real value at different points in time: all with an investment that fits your reality!
EVERY PURCHASE CREATES
NEW OPPORTUNITIES

! SEIZE THEM ALL!
For information to be an ally, you need to have the resources to retrieve stored information, access, manage, and extract strategic insights from the data of every transaction.
Tatic Vero turns every purchase into a secure and reliable source of knowledge: a support system to make better decisions and to develop actions with real value, from relationship programs to personalized offers based on customer behavior.
With applied strategic intelligence, well-managed information and integration with digital channels, Vero improves operational performance, opens channels to deliver enriching consumer experiences, creating new sales opportunities and relationships.
Vero's strategy to capture the customer experience
Positive experiences for those who buy, in exchange for data for those who sell: a virtuous circle of advantages for the customer and competitiveness for the company.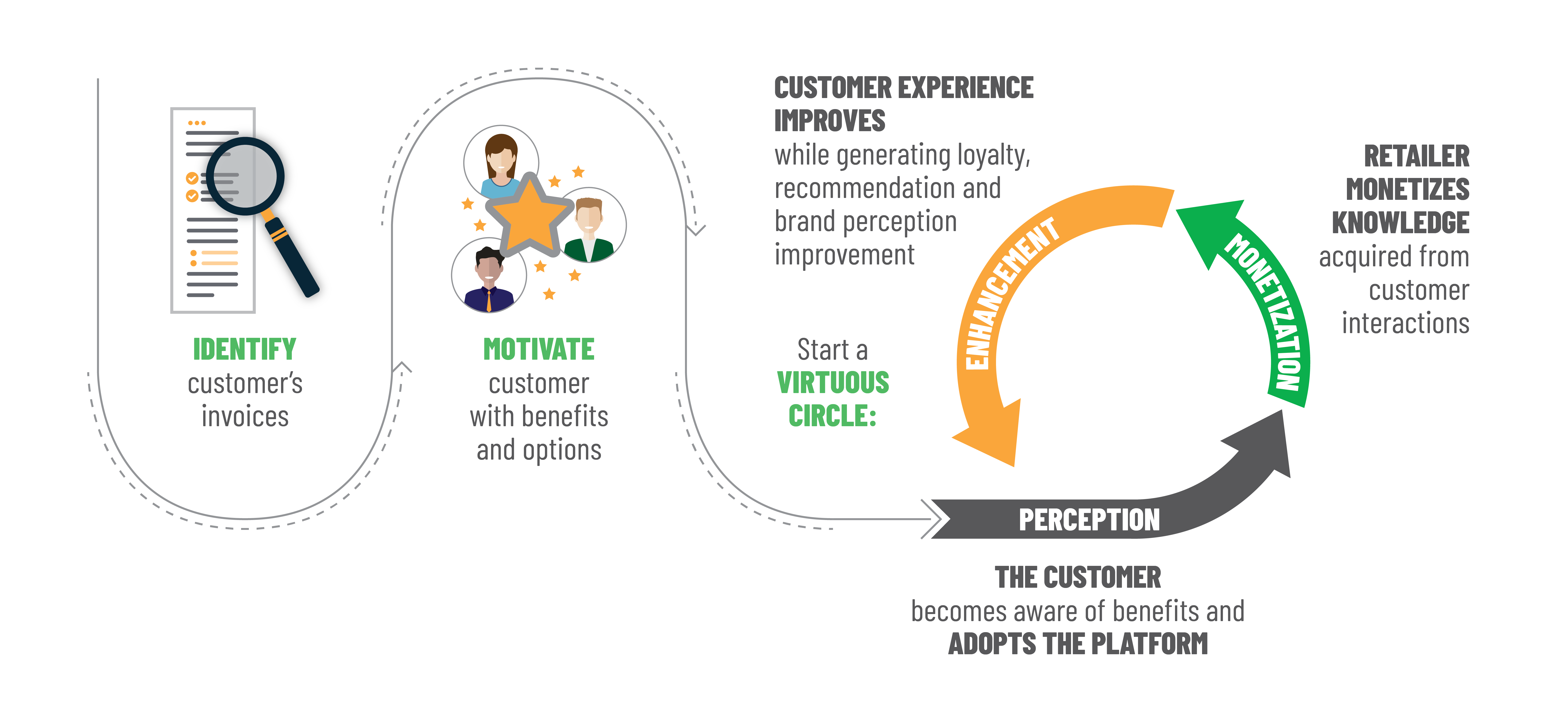 ANALYTICAL INTELLIGENCE AND DATA EFFICIENCY
Vero combines Tatic's expertise in data management and advanced analytics: your data becomes a strategic input of unparalleled value! The powerful features that create differentiators for large retail chains in your hands, and the best part is that this is a platform that is easy to use and integrates seamlessly with your team's routine and the technologies you already use.
Unique cloud-based solution – much easier to deploy, use and integrate with your routines
The best retail app with resources you will use. Investment that fits your reality.
Knowing and satisfying customers, enhancing the relationship, and managing it efficiently: Vero extends and revolutionizes retail best practices, so your business can sell more and in a better way each time. Therefore, it has a direct impact on the operation, strategy, brand image, and results.
Vero is simplicity and technology for your company to control and apply information. Forget the hassle: choose the integrated and accessible platform that fits into your day-to-day life, combining what you really need with the right investment for your reality.
TATIC VERO
INTELLIGENCE ADDED TO THE RETAIL MARKET, MORE EFFECTIVE ACTIONS, AND IMMEDIATE RESULTS!